Our innovations and milestones at a glance
Jenny Science AG is an ambitious and internationally active family business that has become a leading component manufacturer for industrial automation. Headquartered in Rain LU, the company boasts around 65 skilled employees dedicated to developing and producing compact linear motor axes, hollow shaft motors, and web-based servo controllers for discerning customers worldwide.
Established in 1994, the company's early years were characterized by a path that wasn't entirely straightforward. The founding period presented numerous, undoubtedly exciting technical challenges, but a lack of focus resulted in a heavy workload and limited success. However, in 2005, a pivotal moment arose. The company successfully developed and manufactured the first compact linear motor axis and a corresponding servo controller for industrial automation. Since then, the company has wholeheartedly focused on these compact electromagnetic precision drives, leading to continuous and prosperous growth.
Presently, the family business is under the capable management of the second generation, represen-ted by Alois Jenny's four sons: André, Marco, Sandro, and Ramon. They carry on the legacy and are dedicated to driving the company's success to new heights.
2023
LINAX® Lxs F120 - Bigger, Stronger, More Efficient!
For the first time, not only the internal components of the engine have been further developed, but also its physical size has been addressed. The LINAX® Lxs F120 covers a size range from 400mm up to 2m. In addition to the existing features, new ones have been added, such as the innovative single-cable solution.
2022
INTAX® linear motor axis with integrated servocontroller
INTAX®, the world's first linear motor axis with integrated servo drive; everything runs automatically: Simply connect the USB-C cable and enter «run.Webmotion» in Windows Explorer then WebMotions® opens. Click on «GO» and the axis runs.
2021
Signateq® force measuring amplifier
Thanks to our newly developed Signateq® force measurement amplifier, force can be measured directly with any strain gauge force sensor for functions such as force measurement and force control. Position and force values are processed directly in the XENAX® Xvi 75V8S servo controller. This allows the smallest deviations to be tracked and monitored during the production process. Additional external check stations are no longer necessary.
2020
New opportunities with our XENAX® 75V8S
The new XENAX® Xvi 75V8S is the further development of the XENAX® Xvi 75V8 and supports all previous functionalities including TÜV and UL certification. The Web Motion® is based on HTML5. With the new XENAX® Xvi 75V8S you achieve an even more precise force measurement with the use of Forceteq® Pro and the Signateq® force measuring amlifier.
2019
World novelty: ROTAX® Rxhq rotary motor axis with 12 mm hollow shaft
The miniature hollow shaft servo motor ROTAX® Rxhq (high torque) impresses with its extremely compact design. Direct drive motor, precise bearings and the single-turn absolute encoder are completely integrated.
2017
World novelty: ROTAX® Rxvp rotary motor axis with vacuum / compressed air feed-through
Compact rotary motor axis for precise rotary angle rotation with a resolution of 64,000 increments per revolution. With the hollow shaft bushing, vacuum grippers can be rotated 360 ° endlessly.
2015
Innovation Award of the Chamber of Commerce and Industry of Central Switzerland
Jenny Science was awarded the IHZ Innovation Award by convincing the jury with the Forceteq® stroke-/force measurement technology, which senses forces in linear motor axes, thus not only executing movements but simultaneously monitoring them.
2014
World first: ELAX® linear motor slide
ELAX® is the evolution of the widely used pneumatic slides. The major achievement is the patented, compact integration of the linear motor drive into the carriage housing. This results in a previously unattained force / volume ratio. Another vital key factor for future-oriented automation solutions are the directly combinable, screw-mountable components.
2013
XENAX® servo controller with Ethernet bus interface
EtherCAT®, Powerlink®, CANopen®, Profinet®, EtherNet/IP®
2012
WebMotion® V5.0 with Quickstart function
Immediate and easy set-up of the LINAX® and ELAX® linear motor axes without parameter settings or manual. Here you will find practical tutorials with application examples and solution advice, such as updating WebMotion®.
2010
New series of LINAX® linear motor axes:
Lxu (u = universal): Linear axis with linear motor, integrated guide and measuring system. This "all-rounder" offers 3 different mounting options: on the slide, on the base plate and on the end face.
Lxs (s = shuttle): Linear axis with linear motor, integrated guide and measuring system. The wide design with "recessed" linear motor is ideal for applications with long travel ranges.
2008
iPhone controls linear motor axis
Thanks to the Web technology and WiFi, the linear motor axes could be controlled wirelessly via the iPhone.
2006
XENAX® servo controller based on web technology
The XENAX® Ethernet servocontrollers can be operated for commissioning, testing and parameterization via web browser. With an Ethernet switch, immediate multi-axis operation is possible. As standard there are 12 inputs and 8 outputs for PLC functionality. Up to 64 programs, 50 positioning blocks and 5 individual driving profiles can be stored internally.
2005
LINAX®
Ultra-compact linear axis with linear motor, integrated guide and integrated measuring system 1 / 1000mm, patented monoblock construction.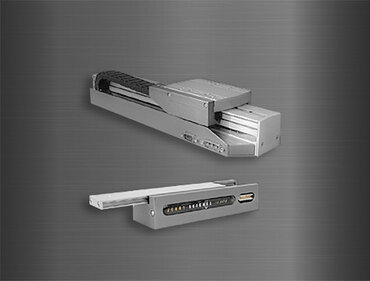 2003
First constructions of linear axes for special applications
Linear axis LM with linear motor and integrated measuring system 1/200 mm. Compact linear axis with servomotor and spindle, accuracy 1/50 mm.
1998
Winner Technology Location Switzerland
New product family «Motor controls JENYTEC». The product convinced the jury through its compact design and innovative content.
1997
TRILAB®
Development of the laboratory device TRILAB® for the automatic generation of anaerobic and microaerophilic environments in microbiological laboratories. In Switzerland, more than 30 devices are in use in hospitals and laboratories.
1994
Alois Jenny wins the De Vigier award for the world's first bicycle dynamo with parking light
Development of the bicycle dynamo JENYMO. The world's first dynamo with an integrated rechargeable battery and parking light electronics. 130'000 units sold up until 1998.